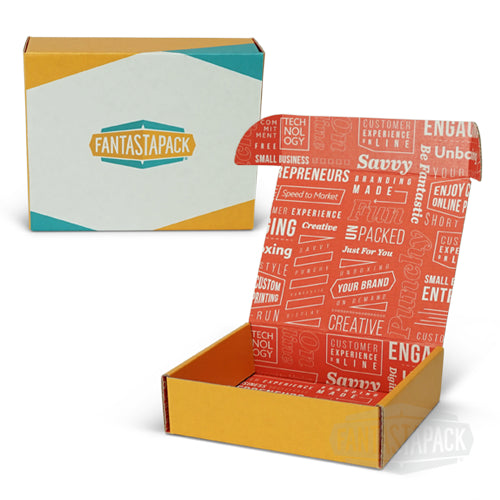 The Roll End Front Tuck (REFT) delivers great brand real estate and presentation value — offering your customers the ultimate unboxing experience. Featuring rounded flaps engineered to smoothly tuck into the front of the main body to secure the product inside, this box is great for shipping valuable items. REFTs are a go-to box style for subscription box companies and for eCommerce order fulfillment, and can also be used for sales kits, apparel, electronics, and more. While this style functions similarly to the Roll End Front Tuck with Dust Flaps mailer, it is quicker to assemble and uses slightly less material.
Watch how to fold this box style in our new How-to-fold video tutorial!
Size restrictions:
Depth must be less than the Width.
Minimum dimensions are 3" (L) x 3" (W) x 1" (D).
Make your brand pop: print outside & inside your box!
Create a unique branding experience for your customers thanks to our beautiful digitally printed mailers! Print outside to make your brand stand out. Print inside to make unboxing your mailer a special moment!
Why choose this style?
• Perfect for shipping
• Easy assembly with self-locking system
• Opens and closes without damaging structure – reusable!
• Available in Standard White, Premium White - with or without a Gloss Ink Finish,  and Kraft
---
• Instant quotes & no minimum quantity!
• High-quality Digital Printing
• Two-sided printing available
• Custom sizes to fit your product
• Made from up to 50% recycled material and 100% Recyclable!
PLA Roll End Front Tuck (REFT)
Please ensure your dimensions follow the product's dimension and scale requirements
Oops! Looks like you forgot a quantity.
Modify dimensions or quantity on the product page
---