Sample Kit
Not sure what material to choose for your design to look great?
Not convinced printing the inside of your box creates a "wow" factor for your customers?
Ordering a sample kit can help you decide what is best for you and your next big packaging project!
Our sample kit gives you a fun glimpse at our different materials and explains what would suit your needs best.
Buy a Fantastapack Sample Kit for $5 and set up your project for success!
P.S.: get a 10% off coupon code inside when you order one now!
Want to see more? Download our FREE flipbook here for pure inspiration for your beautifully printed packaging.
---
---
Tweet
Pin It
Customer Reviews
Write a Review
Ask a Question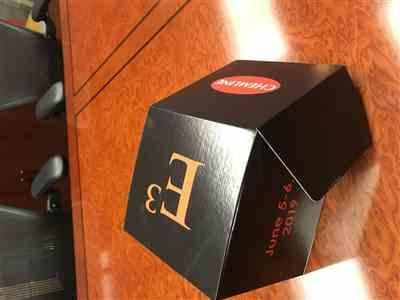 01/11/2019
Chemline Invitation Boxes
I was a little confused as to the process at first, but once I figured it out I think fantastapack's userface is great and they definitely delivered a good product.
Megan M.
St Louis, Missouri, United States
Dear Megan, thank you for your great review and sharing a picture of your final product! We are so glad the sample kit was useful and you could choose the perfect material for your project. Hope to have the pleasure of serving you again soon! Cheers, Team Fantastapack
12/12/2018
Pretty cool
I would have love to been able to purchase the size of the boxes I wanted. I love all the stickers and the costers that shows you the different finishes and Fonts!
Sherree H.
Redford, Michigan, United States
Dear Sherree H., thank you for your review of our Sample Kit! Glad you loved the content and that this helps you decide what you need for your next packaging project! As there are no minimum quantities for our boxes (or labels!), you can order one box of the style you like, with or without artwork, to see if you like it! It's a great way to check if you got your dimensions right, too! Reach out if you need help! Cheers, Team Fantastapack
01/30/2020
Disappointing
I was expecting more examples of boxes
RL
Ralph L.
United States
Thanks so much for the feedback Ralph, that's how we get better! We're actually working to revamp the Sample Kit as we speak. We realize that this may not help you directly, but your feedback is genuinely appreciated. Please let us know if you have any other questions at support@fantastapack.com. Glad to help out. -Team Fantastapack
10/30/2019
Good quality
fast delivery. good examples of the products available. very pleased
Cristelle H.
United States
That's what we're aiming for Cristelle! Thank you for the review Cristelle, we're always looking for ways to improve, so if you have any ideas, give us a shout! And in the meantime, take care! -Team Fantastapack
Art Studio is not available for your screen size.
Art Studio is not available for your screen size. Place an order by clicking ADD TO CART, a dieline will be emailed to you to design offline. You can upload it to your order after checkout. To customize your box online with Art Studio, please place an order from a desktop browser.
Limited Functionality on Safari Browser
We detected you are using the Safari browser. In order to get the best performance from our Art Studio(free online art editing tool) we recommend using any other browser.