product-1943265804385
The Angled Roll Side Tray is a counter display designed to increase sales and retail positioning. With the angled side, this style is perfect for showcasing small retail products and impulse buys at checkout, such as snack bars, cosmetics, vitamins, etc. This free standing display style requires an additional box (HSC or RSC) for shipping purposes.
 
L x W is the foot print of the box. (D) is the depth (or height) of the back panel.
 
Front panel is 1/3 the height of the back panel, or 1.5", whichever is greater.
Please reference our Production & Shipping Timelines page for the most up-to-date information on how long your order will take to complete. 
Minimum dimensions: 6" (L) x 5" (W) x 5" (D).
The length must be greater than or equal to the width.
Angled Roll Side Tray
Please ensure your dimensions follow the product's dimension and scale requirements
Oops! Looks like you forgot a quantity.
Modify dimensions or quantity on the product page
---
Tweet
Pin It
---
Customer Reviews
Write a Review
Ask a Question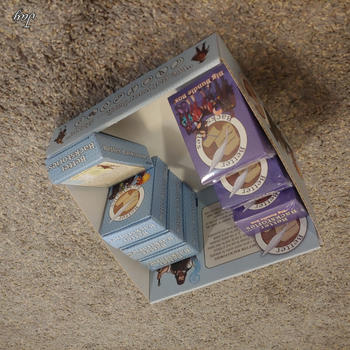 03/02/2021
I recommend this product
A fitting box for Better Backstories
The boxes look wonderful and are easy to assemble. They're sturdy and fit the decks perfectly! I look forward to seeing them on counter tops to help market my product!
Jay S.

United States
04/09/2021
I recommend this product
Great Box and Great Customer Service
I had a very positive customer experience with Fantastapack, as their team helped us through the design process and printing process. It is nice to be able to create a custom dimension to display our products, and do so with full branding inside and out. The paper that we used does seem to crack and tear somewhat easier thatn expected, so we need to assemble the boxes very gently. Besides that we love them!
Christina L.

United States
10/07/2020
I recommend this product
good product
wish the boxes came with a lid
Bridget F.

United States
10/24/2019
I recommend this product
Fantastic
Great, timely service! The custom box turned out great, and when I couldn't figure out how to fold the box, the customer service team made a video just for me. Highly recommend!!
Kayla C.

Canada
Kayla! Thanks for taking the time to leave us such great feedback. Always here to help. It's been a pleasure working with you! -Team Fantastapack
10/16/2019
I recommend this product
The angled roll side tray is perfect
I ordered a sample of this item and couldn't be happier with it. The custom printing was perfect, the tray is easy to fold, and it's quite sturdy. Thank you for the quality product.
Lisa K.

United States
Glad to hear it Lisa! Thank you for taking the time to let us know about your experience with Fantastapack. We look forward to working with you again. -Team Fantastapack